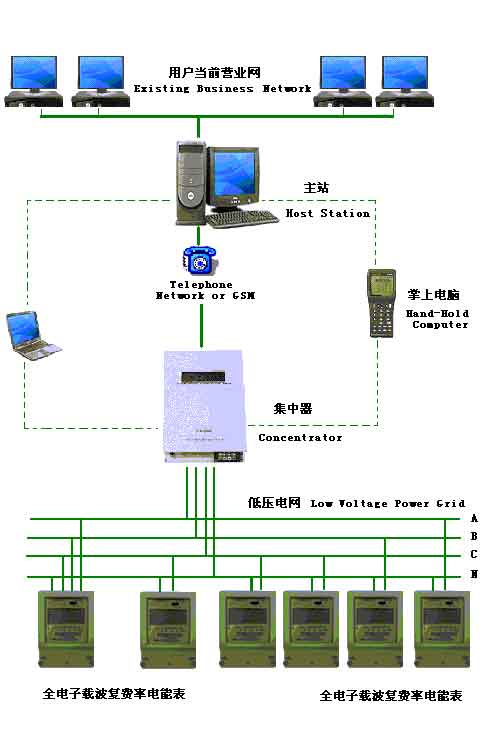 The basic construction of PLC meter reading system
1. DDSI566 single-phase PLC electronic watt-hour meter and DTSI566 three-phase PLC electronic watt-hour meter;
2. CGZ566-1j concentrator;
3. Master station PC and PLC meter reading system software;
4. Auxiliary equipment: The hand-held unit that is equipped with software.
PLC meter reading system main features:
1. The quantity of meter for one concentrator: up to 1000;
2. The carrier wave communication terminal module is installed inside Single/three phase PLC meter without changes to its outside connections.
3. The system adopts power line as the communication medium between meters and concentrator, which avoids the expense for special line construction.
4. The expanding frequency carrier and power frequency modularized technique to realize power line carrier communication. It features high accuracy, high reliability and strong reading capability;
5. Concentrator can record and sense network structure, make sure each meter phase and their relative position. Through continuing to make sense the meters distribution, it may continue to correct the acknowledge of the network structure. Once one meter is not read, the system shall select rapidly the best relay meter to carry out meter reading
6. Master station and concentrator are connected through public telephone line and modem so as to save investment;